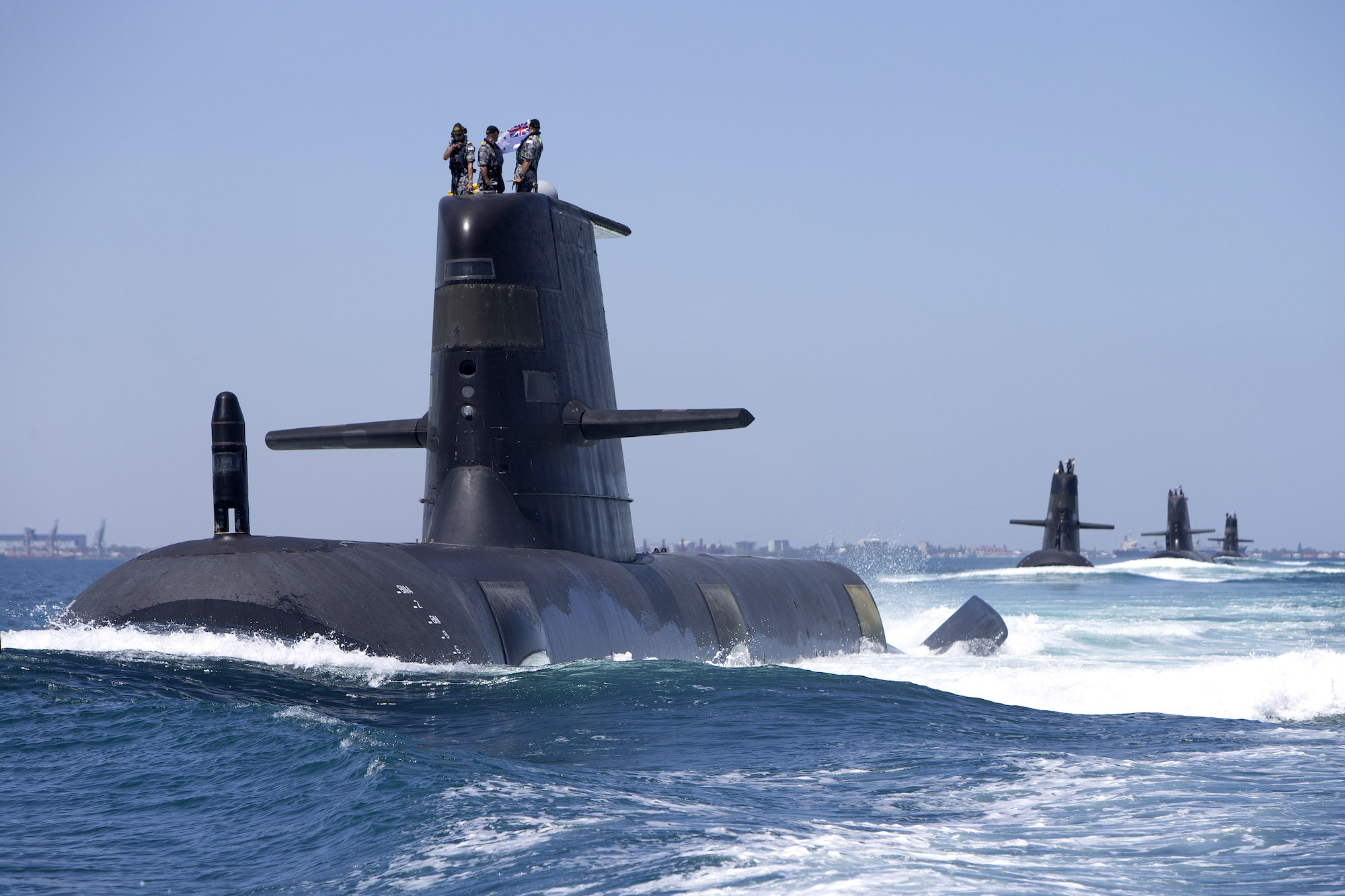 Australia Guided Missile Submarine, Diesel-Electric (SSG)
The Royal Australian Navy has, for many years, focused on development and improvement of its armada of submarines. The submarine is one of the most powerful weapons of the RAN, or indeed any navy unit, and plays a critical role in peacekeeping. However, there have been various classes of Guided Missile Submarines. Today, as the world looks to become more eco-friendly, there has been a clear focus on the development of Diesel-Electric models that are more manageable to power.
Among the most popular class of submarine by the Australians, though, is the Collins class of submarine. The Collins class takes its name from John Augustine Collins. Indeed, each of the six submarines that makes up this class takes its name from one of the various famous RAN personnel who served with such distinguished quality during the Second World War. As a means of recognising their efforts and valour, these submarines all take after their famous deeds.
These six vessels were the first submarines to actually be built within Australia, too, and it played a massive role in transforming across Australian industry. Indeed, they were among the first vessels to be built by a purely independent Australian force, which played a massive role in changing how progress has been made ever-since.
The Collins class of submarines look likely to stick around for the long-term. Their development, though, has not been smooth. Various technical faults and even accusations of foul play to halt development have been made across the years. Indeed, issues with getting the right personnel ready to actually control the submarines has also been a challenge. However, since 2016, the reputation among the Collins class has improved greatly. It is expected to still be around until the 2030s, after an extension made in the 2016 Defence White Paper.
Will the Collins class be replaced?
Well, a replacement class – the Attack class – was supposed to arrive to replace the Collins class. However, this was eventually scrapped. The Attack class was a plan that stayed in motion until September 2021, when it was scrapped due to delays, increasing costs, and challenges with getting things moving forward. Indeed, the replacement for the Attack class – a nuclear-powered submarine fleet formed in conjunction with the United States and United Kingdom – will now likely serve in conjunction with the Collins class.
The lifespan of a submarine is typically predicted to be around 30 years, so it was expected that a replacement would come into place in 2025. However, delays became common in the process and it was eventually decided that it would be expanded into the 2030s as noted above. Extensive delays in agreeing and then starting a replacement project meant that it would be unlikely that replacement models would be ready to go by the original timeline being suggested.
Over time, other plans have been looked at and considered. For example, a plan in 2015 included a joint proposal between the Australian, Japanese, and proposals made by ThyssenKorp to create a Collins class successor. This, though, did not take place for various reasons. It was eventually decided that it would be more feasible to provide an additional maintenance cycle for the Collins class and extend their lifespan to ensure that they could be used into the 2030s.
This offers more time and space to come up with a new plan of action, and ensure that the next batch of submarines can be genuine improvements. The Collins class of submarines, then, will retain their position as a key part of the RAN for some time to come.
What is the purpose of the Collins class submarine?
The Collins class of submarines has been decided for two key roles – defence and two-ocean surveillance. This means that it can be used to properly scan and protect key access areas to Australia, and also provide long-range defence when and where it is needed. This class of submarine is designed to be among the quietest developments ever made. Indeed, it takes all of the developmental changes across five generations of submarines and packages them into one stellar program which was built and developed by the Swedish Navy.
Indeed, part of what makes this particular range of submarines so powerful and important is the fact they were designed entirely by computers. This means that it comes with added features and specifications that simply would not have been considered in the past. This includes a highly automated control scheme that further helps to make management and control of these submarines even easier for the crews involved. The Collins class also boast exceptional shock resistance and outstanding weapons handling. The electric power that is supplied uses the trio of diesel generators onboard to power the Collins class submarines, making them even more sophisticated than previous editions.
Who were the Collins class submarines named after?
As a crucial part of Australian history, the role played by many in the RAN during the Second World War is hard to ignore. Each submarine, then, has taken its name from a legendary member of the RAN from this period. Each was noted as being among those who made the ultimate sacrifice to protect not only Australia, but the wider world.
The six members of the Collins class – the HMAS Collins, Dechaineux, Farncomb, Rankin, Sheean, and Waller – are regarded as among the most highly decorated and impressive members of the RAN armada. Their development stems from intense work and operations to create a system designed to really hit home the improvement and development that has taken place within the Australian Navy over the years.
Through all of the numerous challenges and faults faced during development, the Collins class of submarines today hold a much wider level of respect than they once did. Expect this to continue to be the case for many years to come thanks to the extension of their lifespan.
Each of these Collins class submarines are based at he Fleet Base West in Western Australia, and play a massive role in keeping Australia safe from threats both near and far.
Seacraft Gallery – June 2022